Flexible Trims with 3M™ VHB Adhesive Backing
Contact our Plastic Extrusions Sales department for further selections or for a quotation on a specific design:
Michael Casey Jr. - 508-583-8200 Ext. 3094 -

[email protected]
Barbour Plastics flexible vinyl trims with adhesive backing allow for a professional looking trim without having to use mechanical fasteners. These flexible extruded trims moldings are available with 3M's VHB high quality two sided adhesive for the most reliable bond. Barbour Plastics quality vinyl trims are field and time tested having been used in many different applications from Industrial to Marine environments for over twenty years.
Customize Your Flexible Channel Profile: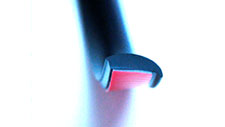 Choose from our vast inventory of stock colors
Minimum quantity as low as 2,000 ft for custom order
Custom cut lengths
Custom packaging, straight lengths or coils
Click on the image to view product specifications: