Flexible Channel Profiles
Contact our Plastic Extrusions Sales department for further selections or for a quotation on a specific design:
Michael Casey Jr. - 508-583-8200 Ext. 3094 - casey93@barbourplastics.com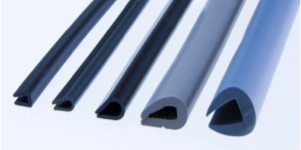 Barbour Plastics offers a variety of flexible channel profiles to fit many wall thicknesses between 1/32" to 1 1/2". These extruded flexible channels are produced from a high quality flexible vinyl material that are superior in impact strength and UV resistant for interior or exterior applications. Our quality flexible channels can be produced in super flexible or very firm semi-rigid durometers.
Customize Your Flexible Channel Profile:
Choose from our vast inventory of stock colors
Channel can be cut to any required length
Channel can be punched or slotted
Special packaging and labeling available
Click on the image to view product specifications:
For more information on Barbour Plastics Flexible Channel Profiles. download our
informational PDF
.