News
Barbour Plastics adds SlipFit two piece rubrail to their Uniflex Rubrail product lines
New arrowhead design has co-extruded rigid surface areas
that lowers surface friction and improves ease of installation!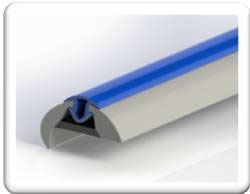 Brockton, MA (August 9, 2019)
Barbour Plastics proudly re-announces the SlipFit Rubrail insert adding to their existing Uniflex Rubrail line.
"The advantage of SlipFit Rubrail is the design of the Arrowhead insert designed to snap into place with ease and stay put at sharp bends making it a favorite for OEM boat builders and do-it-yourself installers as well." says Michael Casey, Executive Vice President. "Opposing surfaces of both the rubrail base and the insert are coated with a proprietary polymer having a low coefficient of friction."
The SlipFit insert also provides a more finished look over other tube style inserts. Once inserted into the base, its body decompresses and is firmly secured in place. The super flexible Co-Extrusion Uniflex Rubrail has been produced by Barbour Plastics for over 20 years and is installed on thousands of quality built vessels.
"These products have been utilized by many of the major boat manufacturer's worldwide." says Michael Casey. "With this new look, Barbour Plastics continues to be the leader in the Marine Industry."
For more information about Barbour Plastic and their extrusion capabilities, please contact us at 800-955-9649